can't see this email?
click here for webversion

MIKE DIANA
TOTALLY FUCKING GAY
UPDATE!
Mike Diana artwork on cover of new
TOTALLY FUCKING GAY CD!
get yours right from Mike Diana's camp,
comes with free condom of cd cover!
only $10 ppd via paypal
use mikediana (at) testpress.net,
and "send money to friends and family" option
DIGITAL RELEASE OUT NOW!
Totally Fucking Gay are:
Kneepad Nikki -voice, keys, dirty knees
Doc Octocock - guitars, keyboards, production, assplay
Joe Testículo - lead guitars, penis slide
BIO: Kneepad Nikki, Doc Octocock and Joe Testículo created TFG's self titled album during the summer of 2015.
Dicks were sucked, bagels were eaten and hits were created. The lead single, 'Marathon Gay Sex For Manly Men'
was recorded first; followed by 9 other homoerotic hymns. Once the album was completed, the three formed
Third Input Records as a way to release TFG's self-titled album; as well as the entire TFG back catalog.
Totally Fucking Gay is an outlet for vocalist Nikki "to express my admiration for the extreme side of gay culture.
I wanted to create an old school John Waters movie in sonic form." Nikki mixed his love of underground music,
pop music and taking dicks in his ass to create an electro-grind Village People for the 21st century.
Nikki, whose birth name is Mike Hymson, suffers from chronic lyme disease. When he's not creating music, he's
bouncing from doctor to doctor in hopes that some day he will regain his health.
Joe explains, "I saw potential audiences for TFG that Nikki was unable to see; queercore, grindcore, electronic music,
even Howard Stern fans. I also pointed out the similarities between TFG and the movie Bruno, which made millions
of dollars for its studio and star. We're not aiming that high; but the money coming in from downloads and streaming
should cover our lube and condom bills for the year."
Lead/slide guitarist Joe is also a friend of the controversial underground comix artist, Mike Diana, whose painting
graces the front cover of the TFG release. mikedianacomix.com
Nikki admits that for him TFG is more than a musical project; it's a philosophy of life; "TFG is a pop grindcore comedy
project first and foremost. I want people to laugh out loud when they hear this shit. However, TFG's secondary purpose
is to be a homophobe's worst nightmare. We're like the NWA of homosexuality. We take all the things that conservatives
fear about gay culture-and instead of downplaying them for societal approval; we amplify them beyond caricature.
Then we shove them right up their ass."
#gay #metal #electro #grindcore #homocore #queercore
TotallyFuckingGay.com
TotallyFuckingGay.bandcamp.com
twitter.com/totalfuckgay
soundcloud.com/totallyfuckinggayyy
Track list:
1. marathon gay sex for manly men
2. come out of the closet (and cum in my ass)
3. just another day in the life of a gay
4. husband and husband
5. we don't need society's approval
6. it's time to gargle with salty semen
7. let's buy a man purse at the mall
8. ambassador of ass
9. you can evolve or become a dinosaur
10. there's nothing wrong with some atm
if you've gotten this far, then have a
sneak peak at Mike Diana's new website!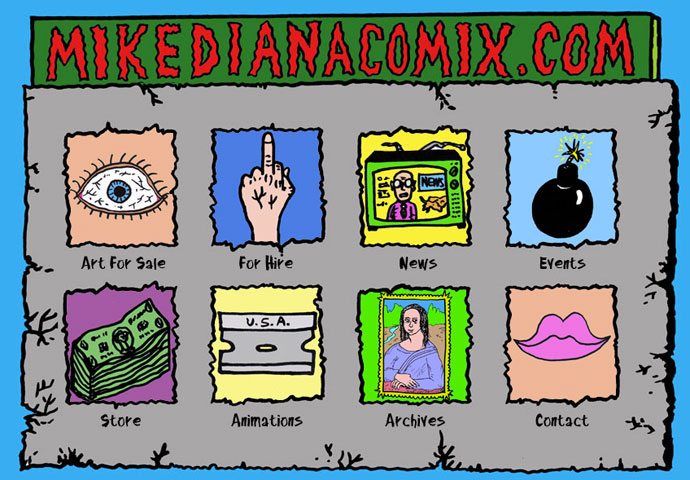 Mike Diana Patches!

Firebrat - new book!
Stuff For Sale: from Mike's Stash

Horrible Ugly Heads
(horrible new low price)

Putrid Portraits
got questions about items,
how to purchase, how to contact Mike?
click!
info@mikedianacomix.com
MIKE DIANA Sew-on Patches
BRAND NEW patches! Bigger and badder!
$15 each, free gift if you get all three!
Fred - 4.5" tall
sew-on patch


Stan and Chad Blap - 5.5" long
sew-on patch

Nancy - 4.5" tall
iron-on patch
only $10 postpaid each
3 for $25!
each patch is approx 3.5 inches
NEW Firebrat book!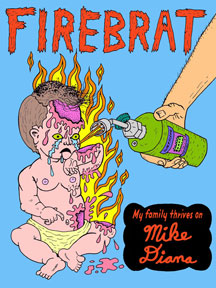 large hardcover format (12" H x 8.5" W)
203 pages
contains older works, some never-before published until now,
contains brand new 23-page Firebrat story
signed personally by Mike Diana, by request
$50.00 + shipping ($8 US, media mail)
($38 international first class)
or you can buy direct from:


LIMITED EDITION PRINTS!

New horrible low price
limited edition prints on hi-quality photo matte paper
all signed by Mike Diana
$20 each
Set of 3 = $50
Complete Set of 10 only $150
(plus postage $5 USA, $15 Int'l)
STUFF FOR SALE!
from Mike's private stash!

only US$100 each!
(+ postage)
these copies come from Mike Diana's stash, and the proceeds go right to him.
You can buy them cheaper online or at amazon, but when you purchase direct
from Mike, you help support his art; Mike will sign copies for you, and probably
include a little extra something to make your heart sing!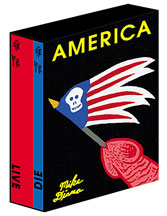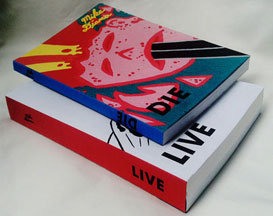 Mike Diana - AMERICA
MASSIVE Limited edition box set - two books of cartoons, drawings and paintings
by convicted comic artist Mike Diana, put together by Divus/London
Two volumes in original cardboard box
All together 528 pages of cartoons, drawings and paintings on fine paper
17 x 25 x 8 cm
(6.5 x 9.25 x 3 inches approx)
LIMITED TIME PRICING:
US$100 + $20 postage and handling (it's heavy!)
International postage/handling = $65

Paypal mikediana@testpress.net (add $4 for paypal fees)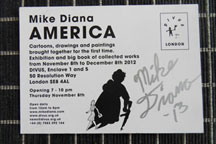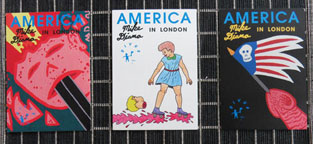 special signed postcard (some with original drawings) with America orders
while supplies last!
"The book America, covering more than two decades of Diana's work, shows a magnified reflection
of the society that deemed his artwork a crime. Much of Diana's work portrays outsiders repeatedly
being punished by the unforgiving nature of their surroundings; where the sensitive types are
gangraped, tortured, dismembered, pissed upon and left for dead. Drawing parallels with the
Franz Kafka book of the same title wherein oppressive and intangible systems force scorned
individuals to plead their innocence in front of remote and mysterious figures of authority."

Mike Diana Putrid Portraits!
Putrid Portraits start at $250 for b/w, $350 for color.
Jefe aka Johnny Chiba will animate it for you free!
Click here for more Putrid Portraits
Cumming soon from Mike Diana
Tantalizing Terror comic collection
new t-shirt designs with custom MD t-shirt tags
Boiled Angel Box Set

Gourdies
(Mike Diana sculpture/creatures made out of gourds
from the Diana family farm)
World's Largest Fetus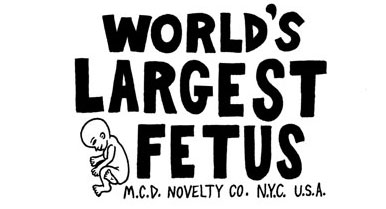 buy it to find out what it is!

mikedianacomix.com is sponsored by



questions for Mike?
info@mikedianacomix.com

want to set up an interview? hire Mike for commission work?
jefe@testpress.net