MIKE DIANA 2017
SOLO NYC SHOW
Sept 7th - Oct 5th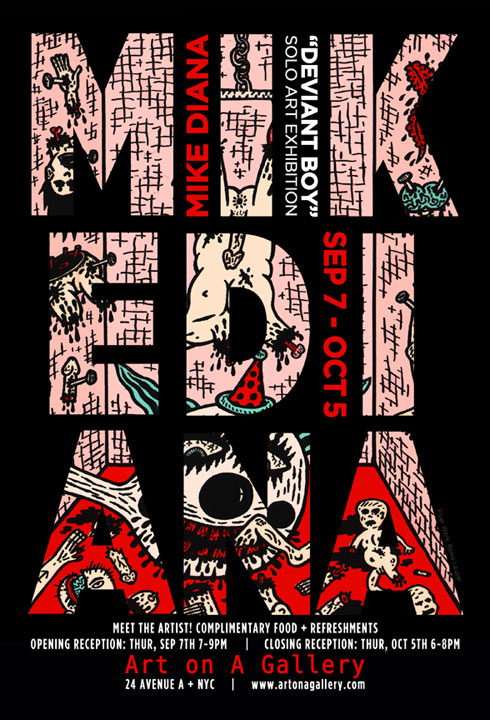 Mike Diana "Deviant Boy"
Solo Show NYC
Sept 7th thru Oct 5th
Opening Recept: Thurs, Sept 7th 7-9PM
ART ON A GALLERY NYC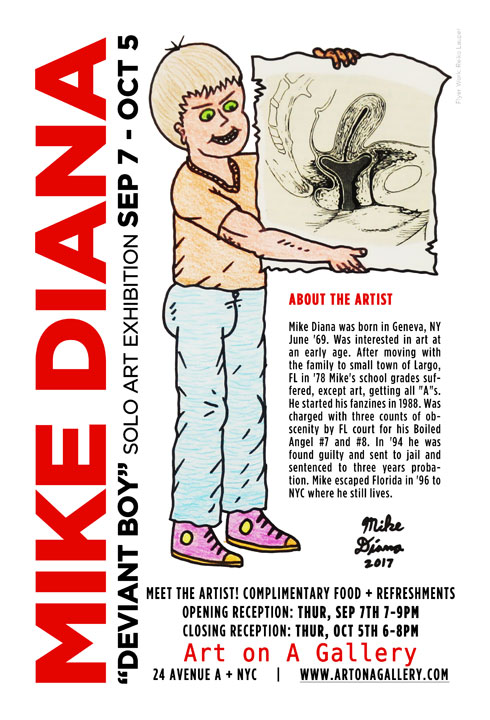 STUFF FOR SALE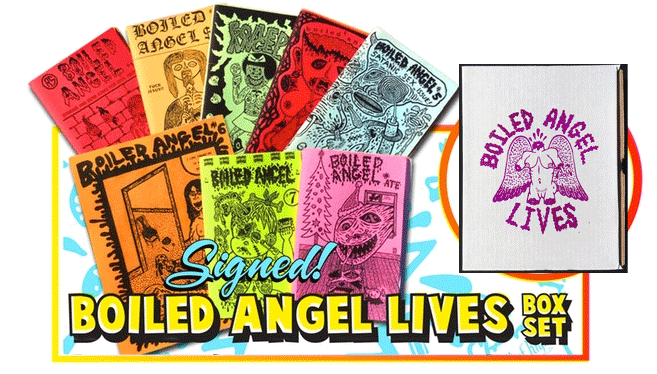 All 8 issues of Boiled Angel, reprinted by Mike Diana

For the first time since their original printing, Mike Diana's infamous
homemade fanzines BOILED ANGEL are being reprinted exclusively by Mike,
and now available for pre-order! These are the zines ordered by the FDLE
(Florida Dept of Law Enforcement) leading to Mike's arrest, trial, and tribulations.

With BOILED ANGEL LIVES Box Set you get all eight issues of Boiled Angel,
along with a Certificate of Authenticity signed by Mike. Each box is signed/
numbered on lid, each issue signed/numbered on inside front cover.
BOILED ANGEL LIVES Box Set - $120 (plus postage)
Only 1,500 will be made available. Choice of Green, Red, Purple, Pink

ALSO AVAILABLE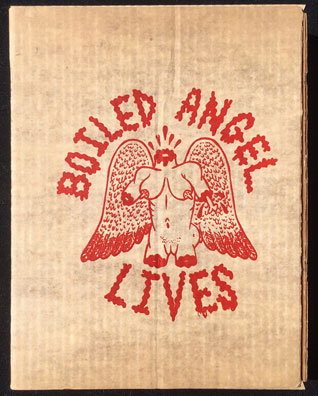 VINTAGE Box Set - $150 (+ postage)
comes with WORLD's LARGEST FETUS!

Special vintage version is a naturally-aged 1960's stockbox
(5.5 x 4.5 x 2 inches), a unique addition to BA box set.
Only 4 (FOUR!) Vintage Boxes left!


Individual Boiled Angel issues 4 sale:
Edition of 300 signed/numbered copies available.
issues #1, 2 , 3, 4, 5 = $20.00 each + postage
issues #6, 7, 8 = $25.00 each + postage
click for more Boiled Angel Box Set info
M.C.D. Novelty Co. NYC is now offering
WORLD'S LARGEST FETUS
Separately AND with Boiled Angel Box Set!

Limited Edition Mystery from Mike Diana
$50 + shipping ($8 US, $15 Int'l)

OR
Add WORLD's LARGEST FETUS to
BOILED ANGEL BOX SET ($120) for only $30 extra!
Total = $150 + postage


Postage/Handling for US Only
$8 for World's Largest Fetus
Boiled Angel Box Set $10 Media Mail
Boiled Angel Vintage Box Set $20 Priority Mail only
International Postage/Handling
$15 First Class Int'l for World's Largest Fetus
$30 First Class Int'l for BA Box Set
$36 Priority Mail International for Vintage BA Box Set

International Orders! please email info -at- mikedianacomix.com
for any special customs info we need to know
"The Trial of Mike Diana" Documentary
Directed by Frank Henenlotter
(Basketcase, Frankenhooker)

click for Kickstarter campaign
COMING SOON!


RIP
New 128-page book of horror, fun, unexpected adventure & disaster!
More than 112 pages of cartoons & drawings on fine heavyweight paper.
9.5 x 6.3 inches

NEW PATCHES

Happy Ugly
4.5" - $15


Leroy
3.5" - $10


Vampire Boy
4.5" - $15

Go To Hell
6.5" x 3 3/4" - $20


Stan Spirograph
6" - $20

Green Weeds
3.5" - $10

Boiled Angel #7
4.5" tall - $15


BA Lives (new colors!)
3.5" - $10


Boiled Angel #8
4.5" tall - $15

click for more Mike Diana patches!

-----HOW TO PAY-----
PAYPAL: mikediana - @ - testpress.net
use "send money to family & friends" option
inquire first to make sure items are available
and for total shipping cost
don't have paypal? contact info -at- mikedianacomix.com
there's more at the store, there's more!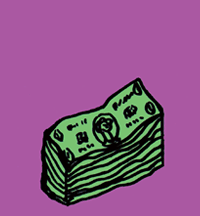 MISC STUFF from MIKE DIANA!


BOILED ANGEL LIVES T-SHIRT!
custom-printed by Mike, official MD NYC shirt tag!
$25 (+ shipping)

more shirts from Mike

and even more Mike Diana t-shirts at Threadless!

| | |
| --- | --- |
| | |
| TFG "G.O.P. (Gag On Penis) | TFG CD - 10 songs only $8 |
Mike Diana artwork graces the upcoming TFG record/poster and self-titled
TFG
record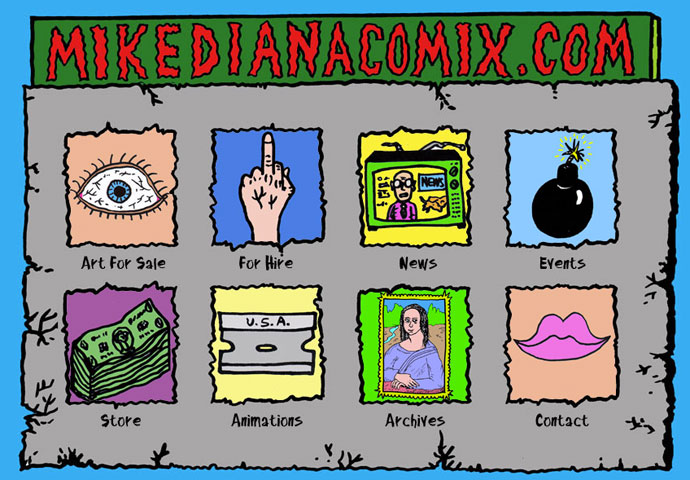 MikeDianaComix.com needs a little help
email Mike and Jefe for help/trade

mikedianacomix.com is sponsored by



Best Adult Sex Toys, PornStar Dildos, Vibrators, etc




Music.Art.Animation.Film.Comix.Politix.Sex
questions. ordering. contact info:
info - at - mikedianacomix.com

interview requests. commissions:
jefe -at - testpress.net
follow Mike!

Join Mike Diana's Email List