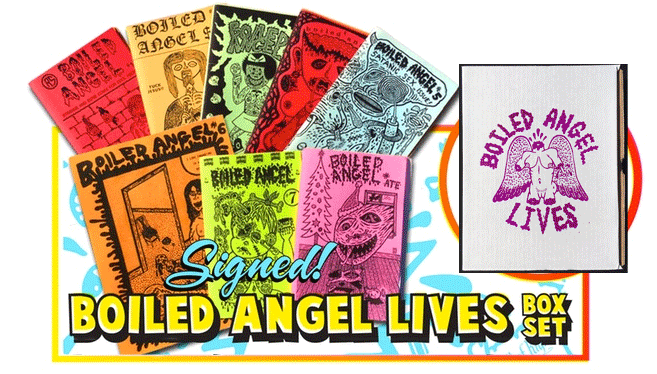 All 8 issues of Boiled Angel, reprinted by Mike Diana
For the first time since their original printing, Mike Diana's infamous homemade fanzines
BOILED ANGEL are being reprinted exclusively by Mike! These zines were ordered by
the FDLE (Florida Dept of Law Enforcement) leading to Mike's arrest, trial, and tribulations.
click for Boiled Angel Box Set info
Order Boiled Angels, issues #1 thru #8 separately, or together in limited edition
BOILED ANGEL LIVES Box Set. Each box and issue is signed and numbered,
comes with Certificate of Authenticity signed by Mike.
Individual Boiled Angel issues for sale:
An edition of 300 signed & numbered copies are available for pre-order.
issues #1, 2, 3, 4, 5 = $20.00 each + postage
issues #6, 7, 8 = $25.00 each + postage
BOILED ANGEL LIVES BOX SET = $120 + postage

SPECIAL "VINTAGE" BOILED ANGEL LIVES BOX SET
(comes with World's Largest Fetus) = $150 + postage
click for Boiled Angel Box Set info

WORLD'S LARGEST FETUS

Limited Edition Mystery from Mike Diana
$50 + shipping ($8 US)
International postage varies

OR
Add the WORLD's LARGEST FETUS
to BOILED ANGEL BOX SET for an extra $30!
Total = $150 + postage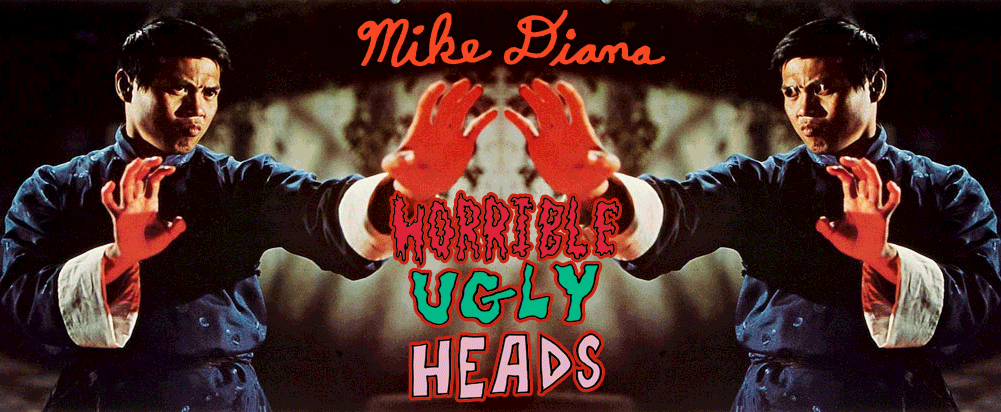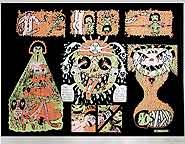 only $25 + shipping
(Mike personally screen-prints each shirt upon order, allow ample time for production,/delivery)
US Shipping: $5 /shirt; Int'l Shipping: $15 / shirt (extra $ for Priority, Air Mail)

COLORS: Black or White Ink
on white, black, yellow, green, or red t-shirt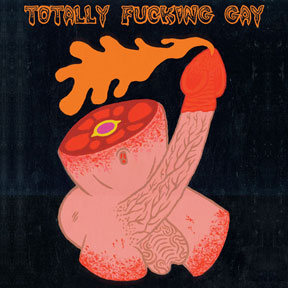 Mike Diana cover artwork for
Totally Fucking Gay
#gay #metal #electro #rock #grindcore
TotallyFuckingGay.com

$8 direct from Mike + $3 postage US
TFG DIGITAL RELEASE OUT NOW!
Rare 7" Vinyl: Iggy Pop Tribute
Mike Diana foldout cover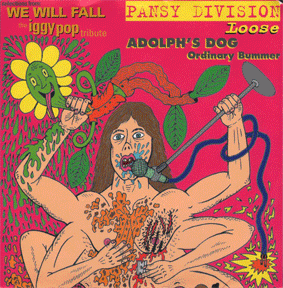 Selections from
WE WILL FALL: The Iggy Pop Tribute
(Scarce 1987 US 3-track vinyl 7" single)
$25 + postage

Pansy Division Loose
Adolph's Dog (aka Blondie) Ordinary Bummer
Joan Jett & The Blackhearts I Wanna Be Your Dog
Mike Diana original covers for #1, #2 and #4. lots of Mike Diana comix and original art inside
- each zine comes with music cassette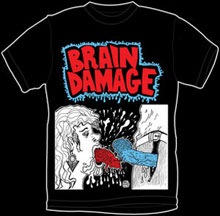 "Brain Damage" t-shirt
available direct from Frank Henenlotter
Cumming soon from Mike Diana
Tantalizing Terror comic collection
newMD t-shirts with custom MD t-shirt tags
Boiled Angel Box Set

Gourdies
(Mike Diana sculpture/creatures made out of
gourds from the Diana family farm)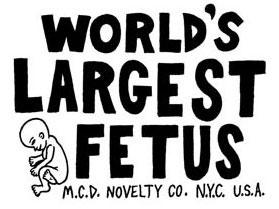 buy it to find out what it is!