In 1994, Mike Diana was thrown in jail without bail on obscenity charges, for publishing, advertising, and selling his zine BOILED ANGEL.
Mike was on probation for 3 years, terms included fines of $3000, no contact with minors, 1280 hours of community service, maintain full time employment, and at his expense, see a psychiatrist and take journalism courses; AND no drawing for his personal use… his home was subject to unannounced searches by local police to make sure he was complying.
June 4, 1996: a ruling by Largo, FL Judge Douglas Baird declared Mike Diana's zines, Boiled Angel #7 and #ATE obscene. He said he personally found Diana's comics "patently offensive" and stated "the evident goal of the appellant's publication is to portray shocking and graphic pictures of sexual conduct so it will be noticed…."
Mike Diana served another 2 years probation, $2000 in fines, and same probationary terms.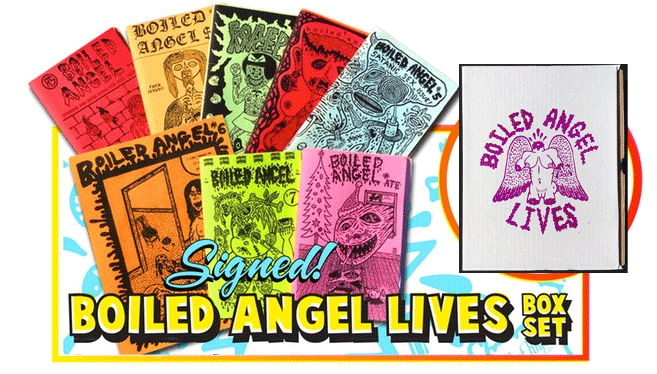 BOILED ANGEL LIVES Box Set collects all 8 Boiled Angel zines, along with a Certificate of Authenticity signed by Mike.  Each box and issue is signed & numbered. Only 1,500 will be made available.  BUY HERE

For more info, schedule an interview, buy artwork, comix, consignment questions, etc, contact: jefe (at) testpress.net, or join Mike's email list below